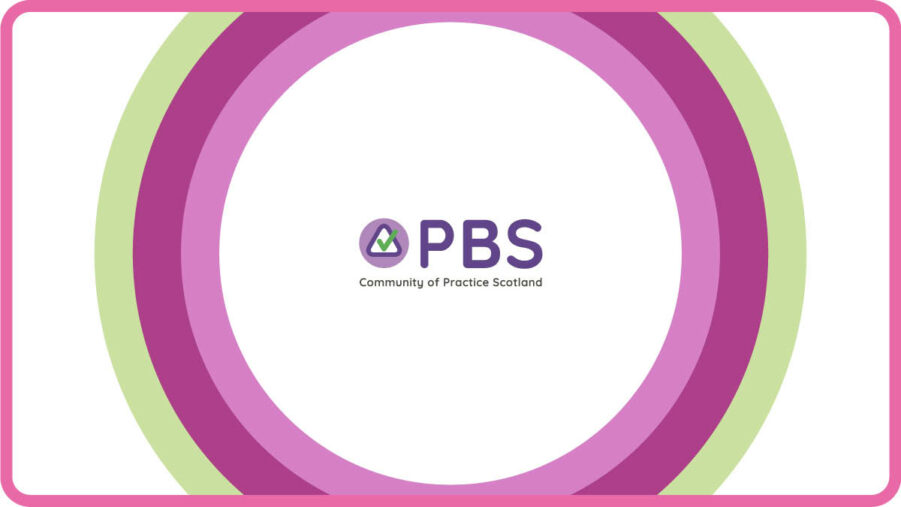 Writing the 'Understanding Positive Behaviour Support' interactive resource
Positive Behaviour Support (PBS) has long been considered the best practice approach for supporting people with learning disabilities and complex needs. Despite being written about in some high-level government strategies, such as the Coming Home report, we recognised that there isn't a one stop shop for people who support individuals with learning disabilities to learn about PBS in Scotland, so this was what formed our vision – to create something that would help anyone in Scotland increase their knowledge and skills in Positive Behaviour Support. Lucky for us, we all knew Barrie Wilson from the Scottish Social Services Council (SSSC) and way back in 2020 Barrie brought us all together as a group of people with similar goals, and so the journey was started.
The SSSC, NHS Education for Scotland (NES), University of Glasgow, and 3 leading social care organisations; The Richmond Fellowship Scotland (TRFS), Action Group, and Key collaborated to develop a resource to enhance the knowledge and skills of front-line staff, parents, and carers in Positive Behaviour Support.
In setting out to create Understanding Positive Behaviour Support we had some clear goals or non-negotiables that we wanted to ensure were embodied within it.
It had to be free – no cost. This was essential to ensuring that there were as few barriers as possible to its access.
We wanted it to be written in as an accessible way as possible. So, avoiding complex terms or academic language. Using videos or pictures where we could.
It had to be bite sized and flexible, so that people could work through at their own pace. PBS covers a huge range of topics that it can appear to be quite complex to someone who has never heard of it before.
It had to be flexible, allowing everyone to learn at their own pace and a time that suits them.
It was important that there were opportunities for reflection and putting learning into practice and not just a tick box exercise.
We really wanted to ensure that people got something in recognition of their learning, that they could take with them no matter where they went and was not attached to a specific organisation.
After establishing the essential requirements, we decided an interactive resource hosted on the SSSC and NES websites, with the ability to gain official recognition for completed work would meet these needs. All of these things made the SSSC Open Badges platform the ideal host.
We categorised the topics that should be included in Understanding PBS into chapters and each took the lead in co-ordinating the content. We then came together regularly to review each of the chapters. This allowed open dialogue and the ability to gain feedback on the work produced. Each writer would then edit their chapters based on the shared knowledge of the group. This was a really great experience as we got to connect with one another and collaborate in ways we wouldn't have otherwise had the chance. There was always someone passionately going off on a tangent about something. We would never get through everything we planned on doing. We would often plan to review 3 or 4 chapters each meeting but I don't think we ever got through more than 2. These regular meetings really did help us stay focussed and accountable. Progress felt slow, and it has taken a few years, but we have done it.
There were a number of key features that supported the group's decisions on the final layout. A vital element of Understanding Positive Behaviour Support was ensuring it was an interactive resource. We ensured each chapter provided short videos or vignettes to enhance learning and ensure the knowledge being shared was supported by practical examples.
In line with the PBS framework, it was important that the first 6 chapters were designed to provide knowledge and skills in creating the right environment for all individuals and ensuring high-quality person-centred supports. The next 6 chapters provide more technical PBS supports that may be more individualised and based on need.
We wanted to provide a non-linear approach to learning, allowing learners access to all 12 chapters but with no expectation to move in a set order through these. The chapters were designed to allow the learners to choose to work on a certain standalone chapter due to being interested in that area or because they are currently working with an individual that the chapter may be beneficial to. Some chapters may recommend that a previous chapter is completed before starting that chapter, in order to give context and some pre-requisite skills before delving into a topic. This has been clearly signposted to allow learners to make these decisions.
Vital to the learning process is the need to complete and provide evidence of learning in practice. This interactive resource aims to build knowledge in PBS but also to encourage and establish new skills that the learner will take into their practice. To ensure new skills were established in practice, learning activities are set throughout a chapter. Learners are expected to take the knowledge they have absorbed and use this within their practice with their team or with the individual they support. For example, within the capable environments chapter, learners will be expected to reflect on the 12 capable environments characteristics and consider what changes should be made to make the environment more capable and better meet the needs of someone they support.
Once we got all the chapters into a final draft, Barrie and his team at the SSSC worked their magic in putting it all together to be what we now know as 'Understanding Positive Behaviour Support'.
It was such a big piece of work to do – over and above everything else we do in our 'day jobs' – but we are so proud to have finally made it to the launch. The collaboration of all parties, from different organisations and sectors, makes this a unique resource. It's easy accessibility along with the feature that allows learners to work at their own pace and in any environment they choose, allows the knowledge and skills in PBS to be far reaching. This resource is free for anyone to access at the SSSC and NES website. We really hope that people enjoy it and can use it to enhance their understanding in Positive Behaviour Support.
You can access 'Understanding PBS' interactive learning resource on the SSSC Learning Zone page.
You can find more PBS resources here.
You can join the PBS Community of Practice
  Nadia Khan BCBA, The Richmond Fellowship Scotland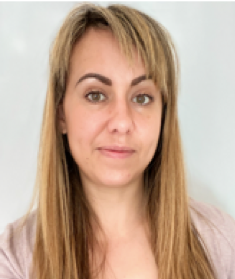 Jennifer Dow, Action Group