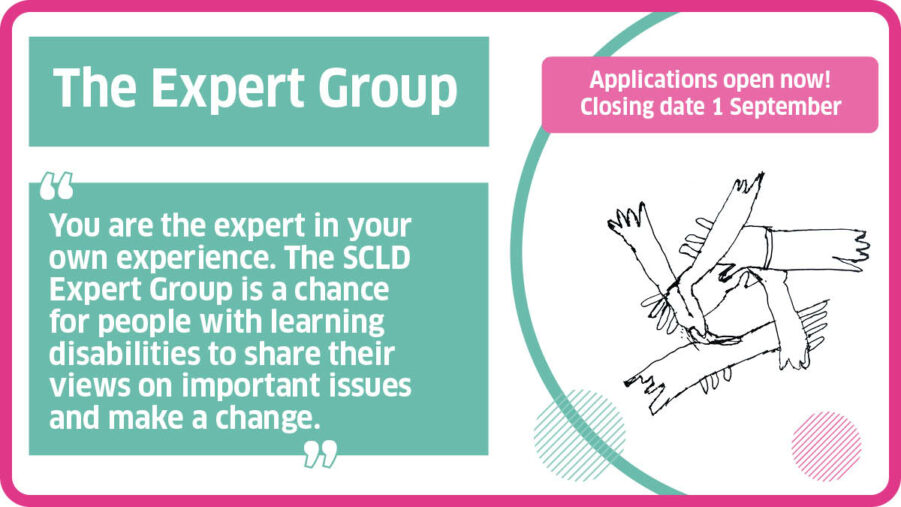 The SCLD Expert Group is recruiting!
The Expert Group is recruiting! 
Scottish Commission for People with Learning Disabilities (SCLD) is looking for new members to apply to join our Expert Group! 
What is the Expert Group?
The Expert Group is a national group for people with learning disabilities. It gives people a chance to get together and share their views on important issues affecting people with learning disabilities in Scotland.  
The Expert Group is coordinated by SCLD.
Read a flyer to find out more about the Expert Group. 
How to apply 
For an application form, please email Cameron, at cameron.s@scld.co.uk or call the SCLD office on 0141 248 3733.
If you would like to have a chat about joining the Expert Group, you can call Andy on 0141 222 9871 or email Andy at Andy.m@scld.co.uk. 
Things to note 
The closing date for applications is 4pm on Friday 1st September 2023. 
We are particularly interested in recruiting people from diverse backgrounds to join the Expert Group, as making sure everyone's experience is represented is very important.  
We have made a short video about this in partnership with our colleagues at CEMVO Scotland.
Watch the video on SCLD's Vimeo channel (will take you away from this page).