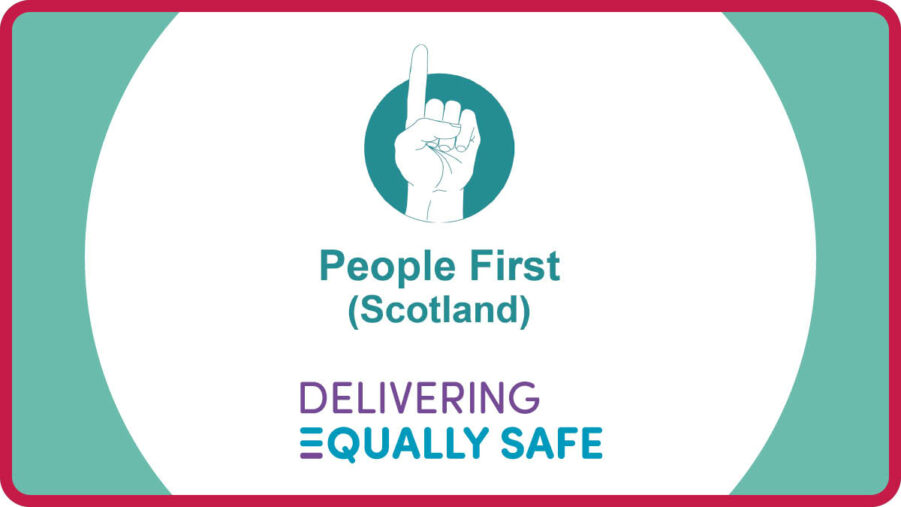 Our experience of the Gender-Based Violence & Learning Disability Conference
By the Equally Safe Group, People First (Scotland)
What were the weeks running up to the conference like?

The journey leading up to the conference was full on! We met online with SCLD regularly to help plan and give advice about making the conference accessible.

We were also very busy planning and practicing our speech and workshop. We work really well together and make sure everyone is heard. So the speech and workshop had the voices of many members from People First (Scotland).
We understood how important it was to get our message across. We wanted to make sure we were heard and understood by everyone. So there was a lot of pressure!
How was the conference?

It was a brilliant day – full on but worth it!

We are proud of what we did and ourselves. Especially in front of professionals and people from Scottish Government. We were nervous but we enjoyed it.

We presented really well and felt listened to. We really enjoyed listening to the other speakers too. We felt there was a strong message from all of us that change needs to happen now.
It was brilliant to have so many women with learning disabilities on stage being heard. Too many times people speak for us, thinking we can't do it. We can and we do it our way. We think Michelle Steel from People First and Leeanne Clark from SCLD were both excellent.
It was so good to see a lot of people there. There was a real mix of people with different backgrounds and reasons for coming.
We were surprised how many people came up and talked to us. It felt really good to get feedback – it gave us a boost that people were listening to us and what we were putting across.
We made some great contacts and finally met some people face to face after working with them online. We're keen to meet more people so we can keep sharing the research we've done with SCLD.
What next?

We hope that we are listened to and need the message to be heard and shared. Professionals should continue to learn and go to training led by people with lived experience.

We would like to help other people going through experiences similar to ours. So please share our group to anyone you think might like to join.
The Equally Safe Group have a busy year with SCLD planned to run a leadership course and make an audit tool for services. Accessible and appropriate support should be there for everybody.
Nothing about us, without us!

We've got the power!