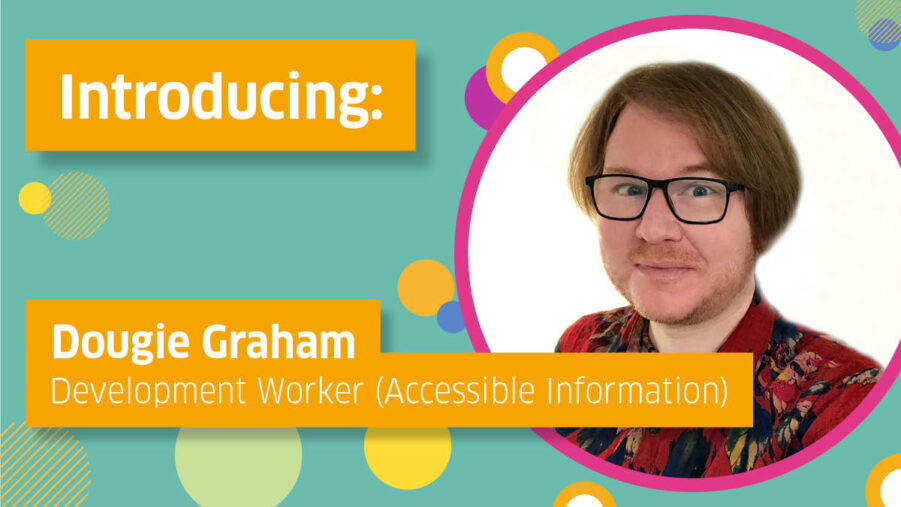 Introducing Dougie! SCLD's new Development Worker
Introducing Dougie! SCLD's new Development Worker for Accessible Information… 
 "Hi, my name is Dougie, and I am very pleased to be able to introduce myself as the new Development Worker for Accessible Information here at the Scottish Commission for People with Learning Disabilities (SCLD). 
I can honestly say the full team at SCLD could not have been more welcoming. I cannot imagine a more supportive, friendly and dedicated team to be part of. 
Currently, my work is mainly to provide information in easy-read form for the Lived Experience Advisory Panel (LEAP) who work with the Scottish Government to give opinion and advice on the Learning Disability, Autism and Neurodiversity (LDAN) Bill. 
A little about me…
My home is in the west of Glasgow with my partner and a grumpy, though mostly lovely, cat called Mr Meow. I have many passions though at the top of my list is music, travel and nature. 
I back-packed extensively in my younger years to most of Europe, South-East Asia and Australia. I am fascinated by people and different cultures. I still have a love for travel, though mostly shorter breaks and minus the backpack! 
I worked for over ten years in a Media and Communications role for a social care provider based in Glasgow. Part of this role was creating some easy-read documents and providing information accessibly in various other creative ways. The role mostly involved daily social media and website updates, as well as graphic design tasks. 
Before that I worked for almost another ten years, supporting people with learning disabilities on both a one-to-one basis with individuals and in a team management position. 
I studied Social Science at university with a particular focus on Sociology. I have a passion for social equality, environmental issues and human rights, 
I feel privileged to be part of a team doing such important work – which really does make a difference. 
The work of SCLD could not be what it is without the involvement of people with lived experience. At every level people with learning disabilities add huge value to the work SCLD undertakes and make up an important part of the team.  
It has been very impressive to see first-hand how everyone works together as one team. Anyone who requires it gets the support they need so we can achieve the best possible outcome together.  
I have been impressed by a lot already in my short time at SCLD, though the level of inclusion has impressed me most of all. If you have something to contribute, you will not be left out. It is wonderful to see true inclusion in action. 
I am now two months into this role, and I have enjoyed every day of it. I look forward to continuing to support LEAP with accessible information and the full team as much as I can. 
It really is great to be here! If I have not met you yet, then I hope to do so soon." 
Dougie
Contact Dougie via email.