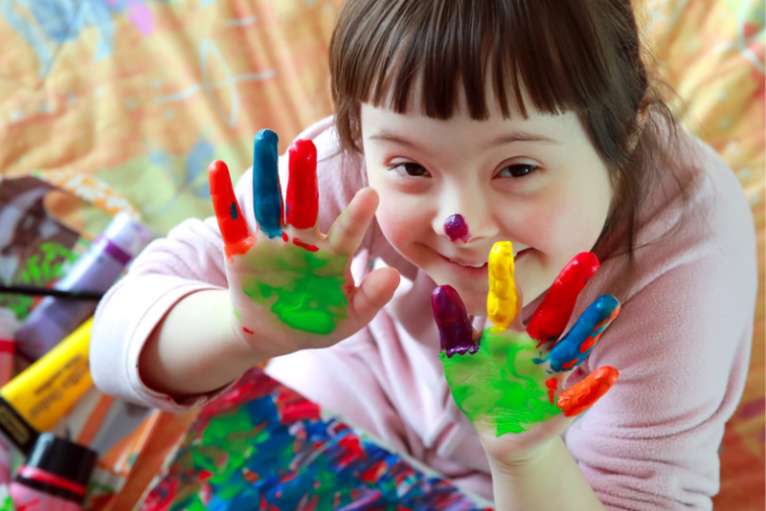 What does inclusive Early Years care look like? A parent's view
Following on from the publication of our Early Years report during Scottish Learning Disability Week, SCLD asked Jacqueline, a parent of a young child with a learning disability, to share her own experience of accessing Early Years education and childcare… 
"When you have your first child who meets and exceeds all their milestones, it comes as a huge shock when you have another child who doesn't. 
My second child, Patrick, is a little different, in that he was diagnosed with Autism and Global Development Delay at 2 years old.  
He was diagnosed early, when the first private nursery he attended at 18 months old called me in after 9 days saying they couldn't meet his needs. I searched and searched for another nursery but no one knew what to do with him, so I decided to wait until he was 3, when he could go to the local authority nursery.  
After diagnosis, it doesn't get any easier. I had the diagnosis, so was able to tell the nursery about it, but it was still early days and they didn't seem to know how to look after him. They had to put him in the baby room as the staff didn't have the knowledge or resources to support him. I just kept worrying about him being in with the babies, as he was much bigger. I was a nervous wreck and just spent all my time looking for a better place for him.  
I was then lucky enough to get him a 'specialist nursery placement.' At the time, it this placement was only available between 12 noon – 2pm. The staff were great as they were trained in additional needs.  They were bringing him on and teaching him things I couldn't. I learned so much from the specialised staff and shall be forever  grateful for their knowledge and support. I asked and asked for more hours but I couldn't get them. Two hours per day wasn't anywhere near enough.   
I truly believe early intervention is the key and if Patrick had more hours and support back then it would've made all our lives easier. 
In theory, it is great that parents are being offered more funded hours now, but from my experience I can understand why parents of children with additional needs won't be taking it up – there aren't enough spaces in specialist nurseries. Mainstream nurseries are not set up to care for children with additional needs. 
Inclusion isn't about bringing others into a space which already exists… it's about making a new space, a space which is better for every ability.
The government need to listen to parents more. In order for mainstream nurseries to care for children with additional needs, there would need to be a lot more staff. Some of the kids need 1 to 1 support. Some of the kids will need 2 to 1 support.
If they need it, they need it!
If the government is serious about its commitment to the human rights of all children then they need to think about children with additional needs. They need to start looking at inclusion – at the moment they are just playing at inclusion. 
Inclusion isn't about bringing others into a space which already exists……it's about making a new space, a space which is better for every ability."
Jacqueline Foy