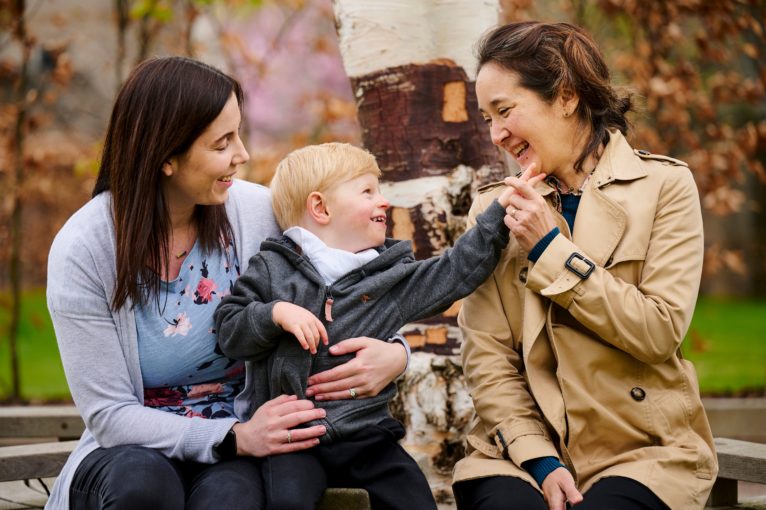 The power of the Early Positive Approaches to Support (E-PAtS) programme
Sophie Pilgrim is Director of Kindred, a voluntary organisation that each year supports over 700 families of children and young people with complex needs. In a guest blog she shares her experience of the Early Positive Approaches to Support (E-PAtS) programme… 
From the moment I heard about E-PAtS from the Scottish Commission for People with Learning Disabilities, I felt that this course for parents of children under five would fill a gap in our service. It was like finding the last piece of a well-loved jigsaw.
E-PAtS has been designed specifically for parents of children with intellectual or developmental disabilities and is an eight week course, packed with information tackling the most challenging aspects of parenting. Each course is delivered by a parent of a child with an intellectual or developmental disability, alongside a professional colleague.
We were fortunate to team up with clinical psychologists, Natalia Zamzam and Louise McCool, from the NHS Lothian CAMHS ID service and we undertook training in June 2021 with our trainers, Nick Gore and Jill Bradshaw who lead on the E-PAtS programme at Tizard Centre University of Kent. The training proved to be a wonderful and rich experience, delivered online to colleagues across Scotland and all the way up to Shetland, and including colleagues from PAMIS. Since that time, I have co-facilitated three E-PAtS programmes with Natalia and Louise.
Kindred has provided parenting programmes in the past covering a similar range of subjects. The difference with the E-PAtS programme is that every aspect of the delivery and content is evidence-based. This includes the background training for presenters, the content of the course, the information for presenters and the handouts for parents, and most importantly, the compassionate and thoughtful delivery model founded in peer-support. All of these elements help to make the programme more meaningful and effective. Some of the sessions (sleep, communication, skill development, Positive Behavioural Support) are a distillation of the most effective tips and techniques for nurturing the development of a child with a learning or developmental disability.
Throughout the eight week programme, there is a theme of 'looking after yourself' which has the effect of nudging participants away from feelings of guilt and grief, encouraging them to come to terms with their caring role. As facilitators, it is gratifying to witness this process of change. I have also found that the programme has provided me with greater confidence in my advocacy role as I have a knowledge base to share with parents.
Interestingly, the skills I have gained have helped me support parents of older children who have struggled with school attendance. Providing training on self-care is a useful reminder that we each have to look after ourselves in this busy world. This overlaps our ethos at Kindred, where we prioritise staff wellbeing so that we can role model self-care for parents using our service.
In a 2020 article Nick and Jill explain the rationale for E-PAtS: 'UK population-based data have shown that children with an Intellectual Disability (ID) [learning disability] are 4–5 times more likely to have a diagnosable mental health disorder compared to other UK children. In addition, high proportions (60–80%) of children with ID in population-based samples have clinically concerning levels of behaviour problems (including hyperactivity and conduct problems). Furthermore, longitudinal studies suggest that increased behavioural and emotional problems in the child with ID leads to deterioration in parental wellbeing over time, and vice versa.'
These are facts and figures which are very evident in our work at Kindred. We see that parents of young children are exhausted and distressed. They are shocked and bewildered by the extreme behaviour of their children, and anxious about being judged. The children exhibit behaviours such as head banging, 'melt downs', poor sleep, highly restricted diets and delayed toileting.
According to the article, '….data from UK population-based research show that parents, especially mothers, of children with ID are 2–3 times more likely to report elevated or clinically concerning levels of mental health and other psychological problems when compared to parents who do not have a child with ID. Population-based data for the UK and other countries suggest that rates of mental health problems at a level of clinical concern range from between approximately one third and one half of this population of parents.  In addition, parental relationship problems, parent-child relationships, sibling relationships and overall family functioning may all be adversely affected in families of children with ID'.
Parents who attended our E-PAtS programmes reported back to us, week by week, the small improvements in their lives. Using her knowledge of sleep patterns, one parent was able to work out why her son did not go back to sleep after waking in the night (she was tidying away a toy he had put out for himself). Another parent gave a moving account of realising that her son would be overwhelmed by a family event and making the decision not to attend: to her surprise her family respected and understood her decision. A parent who told us she could never take time for herself, 'not even five minutes', came back a few weeks later to say that she had a night out with her partner while her parents looked after the children. Parents exchanged tips on parenting such as managing biting and hitting, getting a haircut and the dentist, getting to nursery, and encouraging positive interactions between siblings.
My own son, who has autism and intellectual disability, is now an adult. During the first five years of his life, I had no diagnosis, no advice on managing his behaviour, and struggled to understand his extreme anxiety and distress. As friends and family blamed our parenting, I became increasingly isolated, confused and fearful. I can see that the holistic approach of E-PAtS would have made a difference. The next step for Nick and Jill is to carry out a Randomised Controlled Trial across the UK which will include around five hundred families which will explore the value to parents of attending E-PAtS sessions. I predict that the evidence is over-whelming.
By the simple process of equipping parents, we are developing the child's most valuable and lasting resource – their own family.
Here's hoping that E-PAtS can be made available to parents of children under the age of five across Scotland. Not just for the sake of their own mental health, but also to enhance and enrich the role of professionals who support the family. By the simple process of equipping parents, we are developing the child's most valuable and lasting resource – their own family. Most importantly, E-PAtS will make all the difference to the life prospects and happiness of the children themselves.
Further Information
For more information about the E-PAtS programme, contact:
Dr Nick Gore – n.j.gore@kent.ac.uk
Jill Bradshaw – j.bradshaw@kent.ac.uk
Sophie Pilgrim – sophie.pilgrim@kindred-scotland.org
Linda Mitchell – Linda.m@scld.co.uk