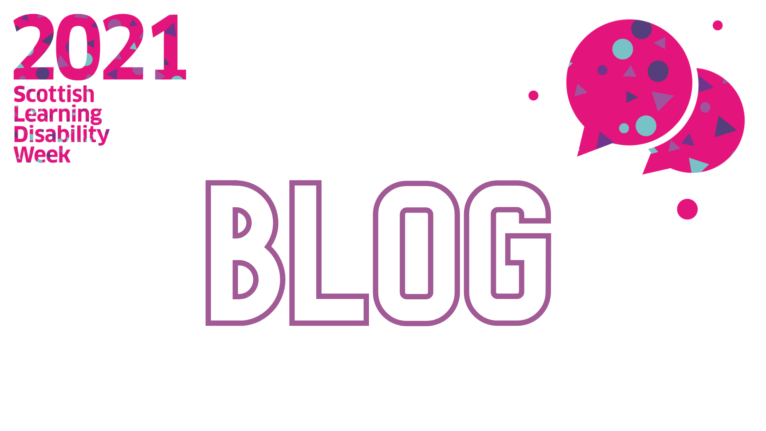 My Family – Leeanne's Story 
This Scottish Learning Disability Week our theme is 'Relationships' and each day we're exploring a different topic around this theme. For many people relationships with family form the cornerstone of their lives – providing a place of safety and security from which to grow from. However families are different and each person's relationship with their family is different. In this blog we hear from Leeanne, a young woman with a learning disability about her own experience and what family means to her…
"This year I was asked to write an article for Scottish Learning Disability Week 2021.  The theme of the week is all about relationships – whether that may be friendship, family, or a loving romantic relationship with someone. I have been asked to write an article about family this year.  
When I stayed with my birth family, they treated me as though they did not want me or my siblings, or they did not want to care for us. My birth family treated me as though I was a piece of paper on the door mat, and I did not reach important milestones at the ages I was supposed to; but all that changed when Dot and her husband Rab became carers to me in 2013.   
You are probably wondering what Shared Lives is; Shared Lives is when you get adult support from an organisation if you have disabilities or any mental health issues and are in the care system. This could be people who know the person, but that is not always the case – you could get matched with someone who you do not know. In my case, I was extremely lucky because I knew Dot and Rab before I made them my Shared Lives carers. 
Since Dot and Rab became my Shared Lives carers I have been on my own writing journey, and I have discovered that being different and having a different story to tell can be a good thing. 
When I entered the care system at the age of 16, I realised that I wanted to write my powerful and upsetting story on paper and maybe achieve something for myself instead of people putting me down all time. I was sick of being told I was worth nothing or I would not amount to much because my birth family didn't think I could achieve anything because of my disability. But I have proven that I am in control of my journey and the life I want to live. If you put your mind to anything you want to achieve, you can do it with all your heart. I have changed my life around 100% with Dot and Rab supporting and encouraging me through all the good, bad and the difficult times that I have had to cope with and face.
Without them both being there by my side I do not think I would be so strong and determined as I am now today.  
I think family comes in all different shapes and sizes – big or small and it is not always about whether or not you are blood related to someone. Just like me! Some people call their closest friends' family. Dot and Rab are like family to me, and they treat me as if I am their own daughter.  
"I have discovered that being different and having a different story to tell can be a good thing"
Today I represent every child who journeys through the care system, each with their own unique experiences. The media is quick to tell us about the negative aspects of being in care but the fact that I am writing this article for Scottish Learning Disability Week 2021 is proof, if proof were needed, that sometimes that journey can be a positive and life changing thing. For me, the next leg of my journey is filled with hope and ambition for a bright and successful life. 
I am so grateful to everyone for taking the time to read my story about family as part of the 'Relationships' theme for Scottish Learning Disability Week 2021."  
Leeanne Clark
Leeanne Clark is a lifetime fellow of the Royal Society for Arts, Manufactures and Commerce (RSA). She lives in Fife and has written a book about her own lived experience as a person with a disability in the care system. 'My Journey Through Life – The Real Me!' is due to be launched in early autumn 2021.