During this year's Scottish Learning Disability Week we are running a competition to find the best 'recycled' Uno the Unicorn, our Scottish Learning Disability Week mascot.
All you need to do is get your hands on some items that are widely recycled (things like plastic bottles, newspapers and magazines and cardboard) and then get creative by making Uno out of items that you would normally recycle.
You could also collect items and materials to make your Uno. It's up to you!
After you have finished making your Uno, take a photo of him and share it with us, along with your name and a description of what your Uno is made out of.
We will announce the competition winner at the Scottish Learning Disability Awards on Friday 22nd May 2020!
The competition closing date is Thursday 9th April 2020.
Ways to share your Uno
Scottish Commission for Learning Disability
Suite 5.2
77 Nelson Mandela Place
Glasgow
G2 1QY
*Please note that if you share your Uno via social media and are chosen as the winner of the competition, we will contact you via the social media profile you used. If you choose to either email or post a photo/s of your recycled Uno, please also include a contact telephone number through which we can contact you.
The prize…
The lucky winner(s) will have the opportunity to make a lasting positive impact on the environment in Scotland by planting some trees with Trees for Life, a conservation charity dedicated to 'rewilding' the Scottish Highlands.

Who can enter?
The competition is open to anyone who lives in Scotland who either has a learning disability or who works with, or for, people with learning disabilities.
Here is one we made earlier!
The SCLD team had a go at making our very own Uno the Unicorn, using items from our recycling as well as some craft materials we had collected.
One of our team had an old rocking horse which we covered and then decorated with our materials – below is the result. We hope you like our Uno!
You can be as creative as you like when making your own Uno – perhaps you have some old gardening materials lying around, or maybe you want to make your Uno out of leftover food… use your imagination!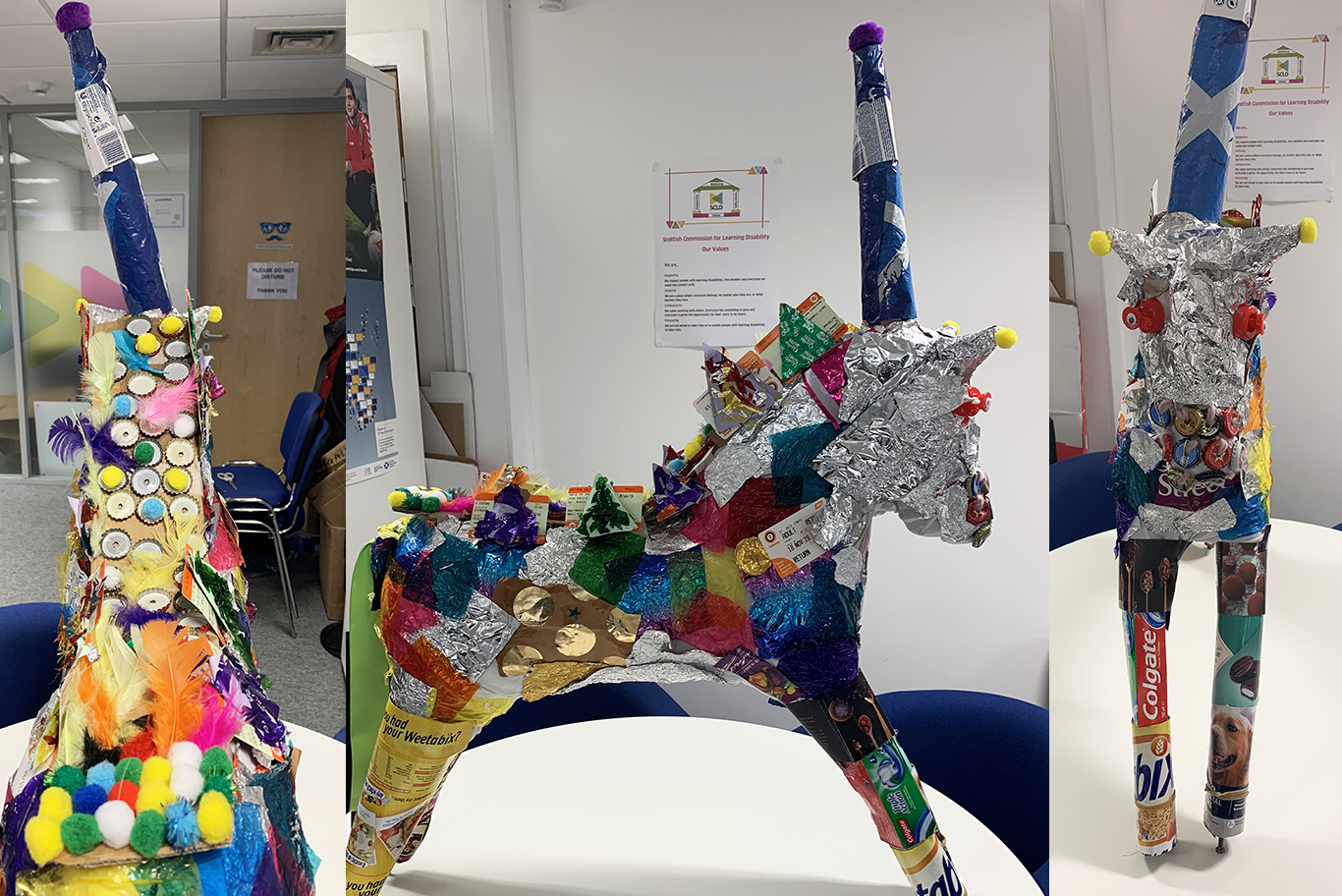 The SCLD team's very own recycled Uno!
Think about…
Try to make sure that the recycled materials you are using are clean
Be careful when using materials with sharp edges or items that could cause cuts or injury
Use items within reason – don't use anything really dangerous (e.g. tin edges or metal wire) to make your Uno
Make sure you have permission and are allowed to use the items to make your Uno.
Find out more about Uno the Unicorn here.