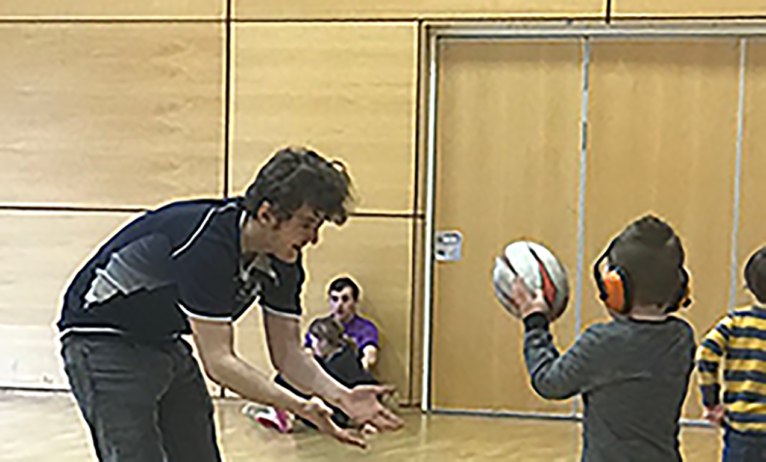 In the run up to Learning Disability Week 2019 we are asking people from all walks of life, from all across Scotland, to tell us about their 'community'.
As we are in the grip of The Six Nations season, this month's blog comes from Stephen, a young man who enjoys a sense of community through rugby.
Stephen says…
At school we did some tag rugby which got me interested in rugby.  I started watching it on TV and following it as a sport. However when I tried to join some local rugby Clubs I was turned away because of my learning disability; no one wanted to take a risk by letting me play.
When I was 16 I heard about Trust Rugby International (tri) from my support worker, Hazel.
She took me along to one of the first sessions tri had set up in Edinburgh at Raeburn Place, home of Edinburgh Accies. I was really nervous as I didn't know what to expect and I was quite shy, so meeting new people was hard for me, but it was great – I really enjoyed it! I met Stevie Main (tri Coach), Shabaz Khan and Callum Calderwood and they treated me like any other player, regardless of my disability. I was hooked, I could play rugby!
I trained every Wednesday evening, the team were really helpful and supportive and we got more players and enablers (mainstream players who support play) joining us. We travelled to Kilmarnock for our first National Clan training session led by Jamie Armstrong the Founder and Director of tri and we met the Ayrshire Clan for the first time. We went to see Scotland vs Tonga that day, playing in Kilmarnock with tickets given to us by the Scottish Rugby Union. It wasn't just playing rugby, it was making friends, socialising and being given opportunities to try things I'd never done before.
I was hooked, I could play rugby!
Ciaran Armstrong helped me fill in the paperwork to get my first passport because in June 2016 the Clan (both Edinburgh and Kilmarnock) went to Cullera, Spain for the first time. We met "EL Clan", our Spanish team.  This was my first time abroad and away from my family.
That's what it's like being in the Clan; it's exciting, we get so many opportunities to do amazing things, try new things, meet new people and go to new places. Do you know we have represented Scotland twice in the International Mixed Ability Rugby World Cup? Once in Bradford and once in Vitoria, Spain. Most recently we played the Welsh team The LLanelli Warriors in Cardiff at the Cardiff Arms Park, right next door to the Principality Stadium.  We then went next door to Watch Scotland vs Wales in the Autumn Tests.
I still train every week in Edinburgh and at the moment I'm training at Union Park, home of the Corstorphine Cougars. I'm still learning new rugby skills and meeting friends new and old, while keeping fit.
It wasn't just playing rugby, it was making friends, socialising and being given opportunities to try things I'd never done before.
For the last year I have also been part of the tri TeamWorX programme; a personal development programme for people with learning disabilities which helps us to develop our social skills, work skills and general life skills through rugby and coaching work.
Through playing rugby and going to TeamWorX, my confidence has increased and I find it easier to speak up in front of other people, and people say I am a hard-working member of the team.  Through tri TeamWorX I went to City Building to learn about manual handling and health and safety and I got certificates for these.
I even got the opportunity to work for TeamWorX with my team mates as a unified tri-WorX workforce during the European Championships in Glasgow.  I got to meet some athletes.  I got paid for this which I used for spending money for my trip to Spain with The Clan, and to buy my mum and sister presents, something I hadn't been able to do before.
Most recently I got a job with tri, which I had to do an interview for. I now work 25 hours a week as a Unified Activities Development Support Coach, working over three areas of rugby: supporting our coaches and organising kit, TeamWorx – where I mentor others on the programme and tri-WorX, our unified work team.
Being part of tri is brilliant and I would recommend everyone gives unified rugby a go!
Stephen Rushford, 21 from Edinburgh, plays with Tri Rugby International as a Scrum Half in the Edinburgh Clan 
You can catch Scotland versus Wales this Saturday 9th March at 14:15 on BBC 1
Find out more about tri and how you can get involved here.