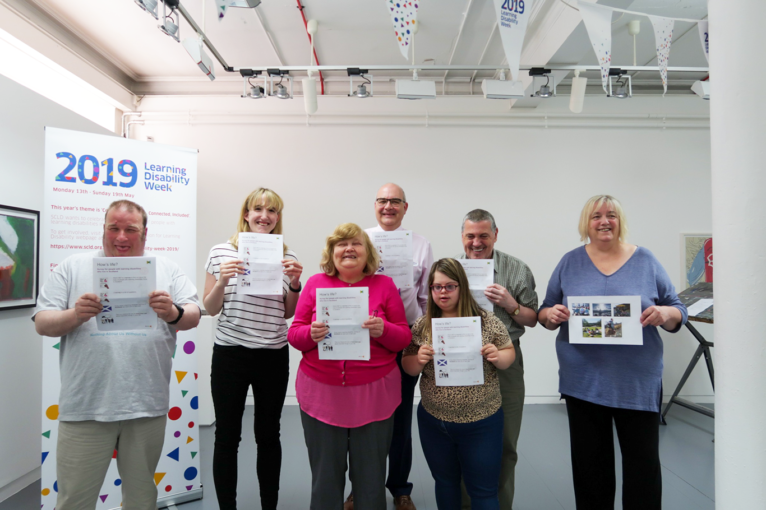 Learning disability charities ask 'How's Life?'
Major new survey will find out about the lives of people with learning disabilities in Scotland
A new survey developed by the Scottish Commission for Learning Disability (SCLD) to find out about the lives of people with learning disabilities in Scotland has been launched. The survey seeks to find out how people with learning disabilities in Scotland feel about their overall well-being, and understand some of the factors that impact on their lives. The survey has been developed in collaboration with the learning disability charities ARC Scotland, Down's Syndrome Scotland, ENABLE Scotland, Key, PAMIS and People First (Scotland) and with support provided by the research company IPSOS Mori.
The survey was launched at a 'Communi-tea' event, this morning (Thursday 16th May), which took place during Scotland's Learning Disability Week. Representatives from each partner organisation shared their feelings about living with a learning disability in Scotland, and the importance of the new survey.
Charlie McMillan, SCLD Chief Executive:
"The Scottish Commission for Learning Disability is delighted to have launched the 'How's life?' survey. Listening to people with learning disabilities at our launch event today underlined just how important it is that we understand more about the reality of their lives. I would like to thank all of our partner organisations for their support in developing the survey and supporting its distribution.
"We want as many people with learning disabilities across Scotland to respond so that we can form the fullest possible picture of their lives, and reach out to currently unheard voices. I know that by working together we can gain important new insights that will inform the work of both SCLD, and the wider learning disability sector and community, to improve the lives of people with learning disabilities in Scotland."
The survey will run until Monday 30th of September, with the findings due to be released next year.  The survey findings will help to guide future evidence gathering and policy intervention. A comparable survey has not been run in Scotland since 2006.
Copies can be sent to all those who are interested in completing the survey or supporting a person with a learning disability to do so. Details of how to request a survey can be found here.