Scotland's national Learning Disability Week will be held from:  
15th-21st May 2017
The theme will be: 
Looking back, thinking forward
2017 is the Year of History, Heritage and Archaeology in Scotland. We want to take this opportunity to reflect on how the lives of people with learning disabilities in Scotland have changed since the launch of Scotland's first learning disability strategy in 2001. We want to learn lessons from the past, and consider how we can work towards building a better future.
Across the country, we want people, communities and organisations  to reflect on their own histories, and to share their story. By bringing these important stories to the attention of a wider audience, we aim to raise awareness of the issues faced by people with learning disabilities both in Scotland's past and present.
To spread the word about Learning Disability Week, you can print and display our poster, share our flyers, share our email alert, or tweet using #LDWeek2017.
Get Involved
This year, we produced a limited supply of free 'Get Involved' packs to support your plans for Learning Disability Week. Each pack contained:
Flags, badges and stickers
Posters
Flyers
An information booklet about how SCLD can help
A handy guide to measuring outcomes
These packs have now been distributed and are no longer available. However,  you can download a range of free, printable resources at the bottom of this page. We apologise for any inconvenience caused.
Find out what's happening in your area here.
We are happy to promote your event plans on our website. You can share event details here.
We can also help you to spread the word about what you're doing to get involved in Learning Disability Week by sharing your posts and photos on social media. Just remember to use #LDWeek2017 in your posts and we'll do the rest!
Why does Learning Disability Week matter?
Film clips
Watch our series of film clips to find out! People with learning disabilities, their families and carers contributed their time to help us produce 16 insightful videos to raise awareness about why the week is so important. Please watch, enjoy and share our clips and help us to spread the word.
Learning Disability Week videos – watch here!
IRISS FM Podcast
Learning Disability Week 2017 – Interview with Chris Creegan
Resources: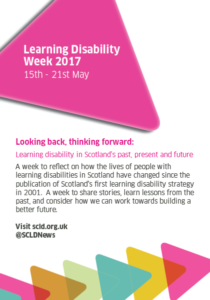 Accessible A4 Poster

Get in touch!
Share your plans with us or ask a question about Learning Disability Week by: